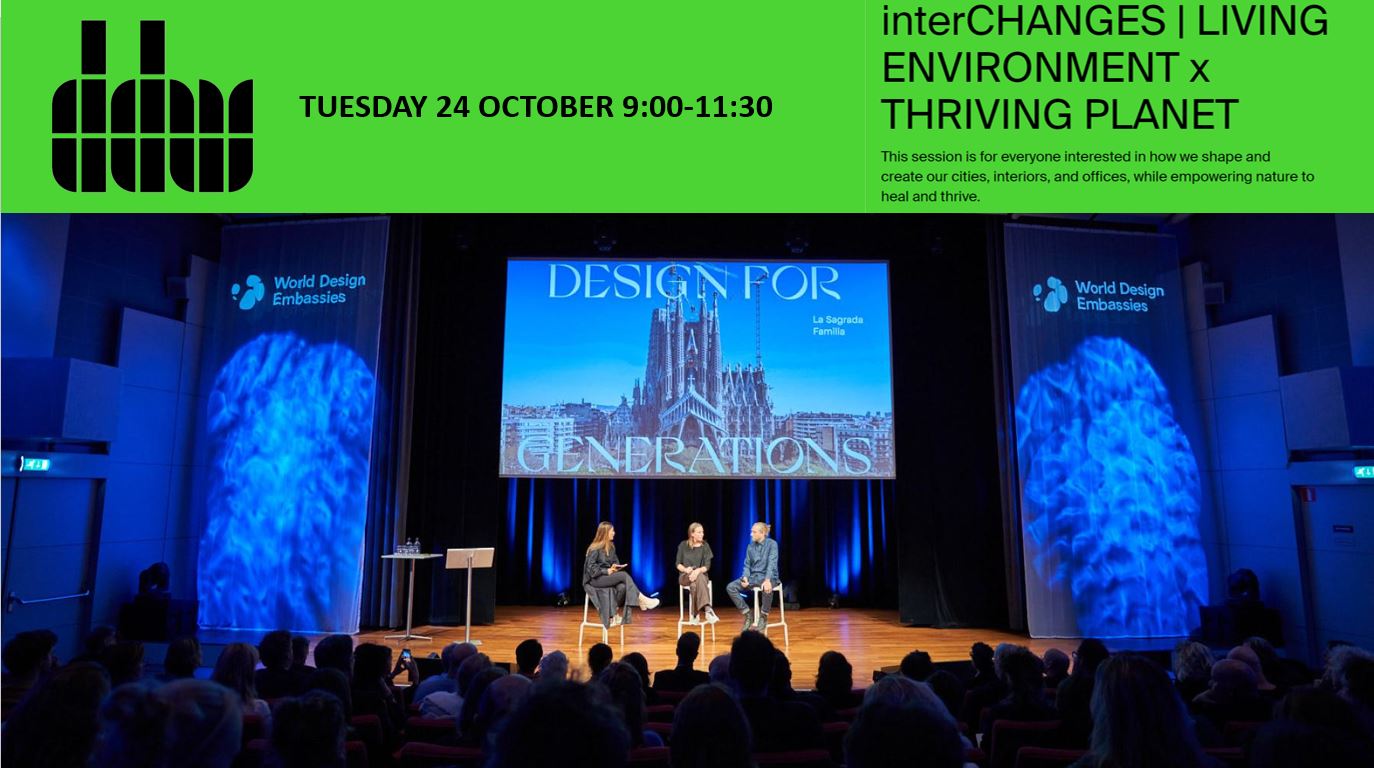 MARIJE REMIGIUS EXPERT | PANELIST DDW interCHANGES | LIVING | ENVIRONMENT x THRIVING PLANET
Register here: https://ddw.nl/en/programme/10713/interchanges-living-environment-x-thriving-planet
InterCHANGES is a series of interactive events for, and by mission-driven people. It offers ongoing opportunities to share & co-create knowledge, while nurturing a safe space for long lasting relationships. Together with whom it must concern we address challenges and strive for a better future.
How can we shape the environment that we live in, while enabling our planet to thrive?
What if we say yes to working towards a fully circular, bio based industry? Then which essential challenges are we encountering along the way? What are potential approaches? With who can and should we take required steps? Closing the loop between suppliers, designers and clients, what entails our personal future role? And how will we collaborate as shared owners?
Programme Tuesday 24 October
Moderated by Marsha Simon. In English.
09:00 | Doors open
09:30 | Keynote by
Annemartine van Kesteren (Curator Design @Museum Boijmans Van Beuningen)
09:45 | Q&A fueled by
Dirk van Deursen (Advisor Innovation & Sustainability @CBM)
Marije Remigius (Sustainability Manager @Fiction Factory & Founder @Circu Leren)
10:00 | InterCHANGES break-out sessions (*more info below)
Session I – Listening, talking, thinking. A philosophical dialogue
Session II – Muzus Stretches. An introduction workshop to Muzus' Methods
Session III – Miro Mission Mindmapping. Co-creation with peers
Session IV – Changemaker Labs by Studio Futurall. About new forms of collaboration
11:00 | Reflective Pause
11:15 | Conclusions with the moderators of the break-out sessions
11:30 | End of programme
*InterCHANGES break-out sessions I & II
Session I – Listening, talking, thinking. An in-depth philosophical dialogue.
Deepen your thoughts around entangled living environment design matters by joining a conversation with keynote speaker Annemartine, Dirk, Marije, a BNO Class of 23 Graduate and a DDA Nominee. Guided by moderator Marsha.
Session II – Muzus Stretches: an introduction workshop into Muzus' Methods that reach beyond.
What if working towards a circular industry is mainly a social challenge? Then what can architects, furniture manufacturers, product designers, involved policy makers and researchers learn from a social design practice? Discover your potential plan of action to complex challenges with diverse stakeholders. By learning from this pioneer's best practices in societal transitions and social issues. Muzus is a Dutch Design Week 2023 Beacon.
*InterCHANGES break-out sessions III & IV
Session III – Miro Mission Mindmapping with peers.
Miro, together with partner Neat, sets up their latest version of a lifesize visual workspace for innovation. There, under the guidance of Miriam van der Lubbe (DDF) and Wessel van den Bos (Miro), CBM hosts a realtime co-creation session. With Remko Roest (Baars en Bloemhoff), Auping, Arco, CS Rugs, Gelderland, Label van den Berg, Lande Family, Leolux and Overtreders W (Future > Factory > Furniture >) What are the lessons learned from Woodloop and Matras Recycling Nederland? What do you think are the required first steps to take towards a circular furniture industry?
Session IV – Changemaker Labs: building new forms of collaboration
Meet your future chain partner. How could suppliers, brands and their clients collaborate in the future? A workshop by Studio Futurall to find out what kind of changemaker you personally are and create a better understanding how to form more productive collaborations. A chance to meet people with similar missions, in diverse roles and different approaches.